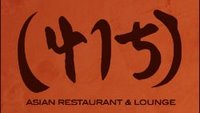 after much debate and hoo-hah, we went and tried the new restaurant in the jcc over the weekend, and what better way to celebrate jewishness than with an asian restaurant dedicated to fusion and sake?
(415)
has sprung up where the never-promising sydney's once splat, and while there's lots of hype, there be gripes.
if you're going to offer food tapas-style, make sure your tables are big enough. if you can't fit water glasses, sake glasses, 2 tapas plates, and some chopsticks on your table, send out the red alert.
as much as tomatoes in veggie sushi sounds good, it's not. so don't. ever again.
you're an upscale restaurant with some space issues, and this is a windy, rainy city. please offer to check our coats.
kosher and sushi sometimes don't go together- our dining neighbors, a cute elderly foursome who all belong to the jcc and spent 30 minutes comparing their individual membership rates, seemed upset that their california rolls wouldn't contain actual crab, that there was no real shellfish on the menu, and that (415)'s margaritas don't contain tequila but sake. is anything in this place authentic? from the taste of the food, probably not.
*now i will say, the service was impeccable: frequently refilled water glasses, a peppy server, and lots of smiles. too bad the food wasn't as good as the help.